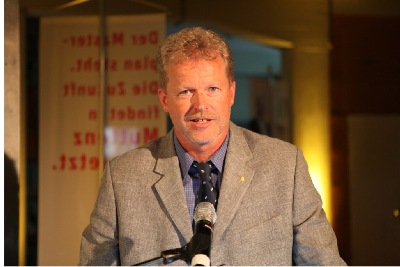 > Langjährige Berufserfahrung als Mediensprecher Kommunikationsleiter und Journalist im In- und Ausland.

> Years of experience as a media spokesperson, chief of communication and journalist in Switzerland and abroad.
Foto: Gesprächsleiter des Podiums an der Feier 25 Jahre UNO-Einsätze der Schweizer Armee.
Photo: Leading a panel celebrating 25 years of Swiss Armed Forces UN-Peace-Missions in october 2014.

> Vielschichtige Praxis in Krisenkommunikation operationell: mit Toten, Verletzten, Geiselnahmen; politisch: mit Spekulationen, Unterstellungen und Unwahrheiten

> Experience in crises communication:
on an operational level with fatalities, casualties, hostage situations;
on a political level with speculations, insinuations and lies

> Erfolgreiche Kampagnenführung mit einfachsten Mitteln, Engagement, Polit- und Medien-Know-how, dient der NZZ als Besipiel für demokratischen Widerstand: Das Beben von Möhlin. Oder das Engagement für eine nachvollziehbare Zweitwohnungsabgabe mit Augenmass: Allianz Zweitwohnungseigentümer Bürchen.

> Langjährige Berufserfahrung in Konzeption und Realisation von Corporate-Publishing-Produkten (Print, Internet, Film); Mitbegründer des damals (Sept. 95) einzigen interdepartementalen (EDA, EJPD, EFD, VBS) Journals SWISS PEACE SUPPORTER als Co-Chefredaktor

> Years of experience in conceptional work and realization of corporate publishing projects (print, web, film). Co-founder and co-chief editor of the journal "Swiss Peace Supporter" in 1995. At that time it was the only cooperational journal between various departments (Foreign Affairs, Justice and Police, Finances and Defence)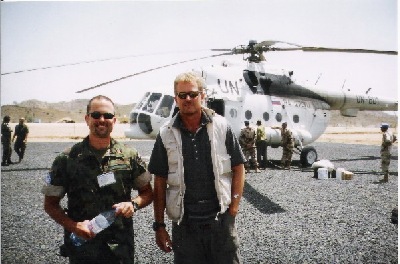 > Breites Know-how als Aufnahmeleiter/ Fachberater von (Image-)Filmproduktionen in Krisengebieten (Balkan, Naher Osten, Kaukasus, Zentralasien, Asien, Ostafrika), hier bei Dreharbeiten für die UNO in Eritrea.

> A broad knowledge base as production manager of documentary film projects in different crises areas (the Balkans, the Caucasus, Middle East, Central Asia, Asia and East Africa), in the picture as project-manager for a film-project with the UN in Eritrea.

> Die Fähigkeit, allfällige Medienreaktionen zu antizipieren, denn "issue management" ist mehr als bloss eine neudeutsche Worthülse: Die öffentliche Wahrnehmung entscheidet massgeblich über Sein oder Nicht-Sein.

> The special ability to anticipate potential media reactions to a given situation. Issue management is more than just a phrase. The public opinion defines political reactions.

> Breite Erfahrung (u.a. als Projektleiter) in Messeauftritten (MUBA, Comptoir, BEA etc.)

> Extensive experience as project manager of exhibitions (such as MUBA, Comptoir, BEA, etc.)


Mein Rucksack enthält zudem:

> Diverse z.T. berufsbegleitende Aus- und Weiterbildungen im In- und Ausland

> Führungserfahrung in der Linie, erfahren in Stabsarbeit

> Sehr gute Sprachkenntnisse in Deutsch (Muttersprache); english and french are considered my second "working languages", mais pour des raisons de crédibilité, il faut toujours l'appuis d'un traducteur pour les publications officielles; conocimientos nivel B2 en español

Noch mehr berufliche Details über mich finden Sie auf xing.com und LinkedIn

Furthermore

> Various extra-occupational basic and progressive trainings in Switzerland and abroad

> Leadership experience with subordinates

> Staff work experience

> Excellent language skills in German (mother tongue), very good knowledge of English and French both verbally and written (they are considered my two other "working languages"), Spanish-knowledge level B2

More details considering my professional life you find here (in german) xing.com an LinkedIn

Diesen Erfahrungsrucksack hat immer dabei:

Lic.iur. (MLaw) Adrian Baumgartner,
wohnhaft im Raum Nordwestschweiz,
geboren am 05.10.1962 in Basel,
Schweizer Staatsbürger, drei erwachsene Kinder

Kontakt bitte über das Kontaktformular

The one who is offering this experience:

Lic.iur. (MLaw) Adrian Baumgartner,
living in the northwestern part of Switzerland,
born on the 5 October 1962 in Basel,
Swiss citizen, three adult children

Please contact me with this form.